Work Experience
Year 10 Work Experience
2018 WORK EXPERIENCE ~ 16th – 20th July 2018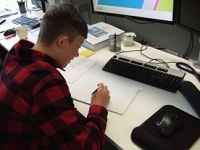 Work experience is a valuable opportunity for students to sample the world of work and to gain an insight into life outside the classroom.
Year 10 work experience is launched to students during the summer term of Year 9, as several other schools in the area participate in work experience at the same time, making competition for some placements quite fierce.
In order to make the process a valuable learning experience in which students can gain important employability skills, we ask all students to write a formal letter of application to our Director of Post 16, Mr Stone. Following their letter of application, students receive confirmation that they can take part and are encouraged to find their placement independently. All placements must have the appropriate insurances in place: Employer's Liability Insurance and Public Liability Insurance in order and pre-placement health & safety checks carried out before approval. When students have secured their placements, they will need to return their completed work placement forms to the careers office in school. These are processed and a pre-placement health & safety visit booked.