Keeping up with school equipment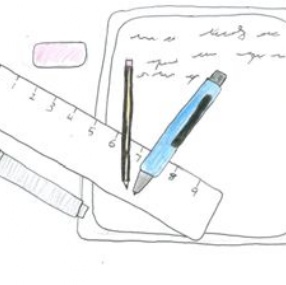 Recently, Hele's School has tightened up and improved the rules for school stationery and equipment needed in class.
These new basics have been called the 'super six'. Every lesson requires them, and they are a necessity to school equipment!
The super six consists of a black or blue pen, a green pen, a pencil, a whiteboard pen /whiteboard set which includes pen rubber and whiteboard, a ruler and a rubber. Now this isn't counted as one of the super six, but just as important, is a calculator. School recommends the Casio calculators.
These are the basics you need for school in every lesson. But of course, you are allowed other things in your pencil case for example highlighters, post-it notes. If you do bring in highlighters, you should probably bring / get a selection as when needed for colour coding some teachers will ask for 3 or more colours.
While you can buy your equipment at regular shops, school offers a cheap deal where you can buy the basic equipment/stationary for cheap prices, and you can buy these any time in the school day. This feature can be accessed in the school library near the French block!!!
Finally, if it ever seems that your pens are dying, or the ink is close to running out the best thing to do is to put a spare in your pencil case or bag, so you have a backup in case your pen/ink runs out in the middle of the lesson!!
By Isla Hockley