Child Protection and Safeguarding
It is a legal requirement for every school to have a named designated safeguarding lead. At Hele's School, the designated safeguarding leads are Mrs S Crawford (Senior Designated Person, Years 7-9), Mrs E Clapham (Years 10-11) and Mr K Stone (Post 16).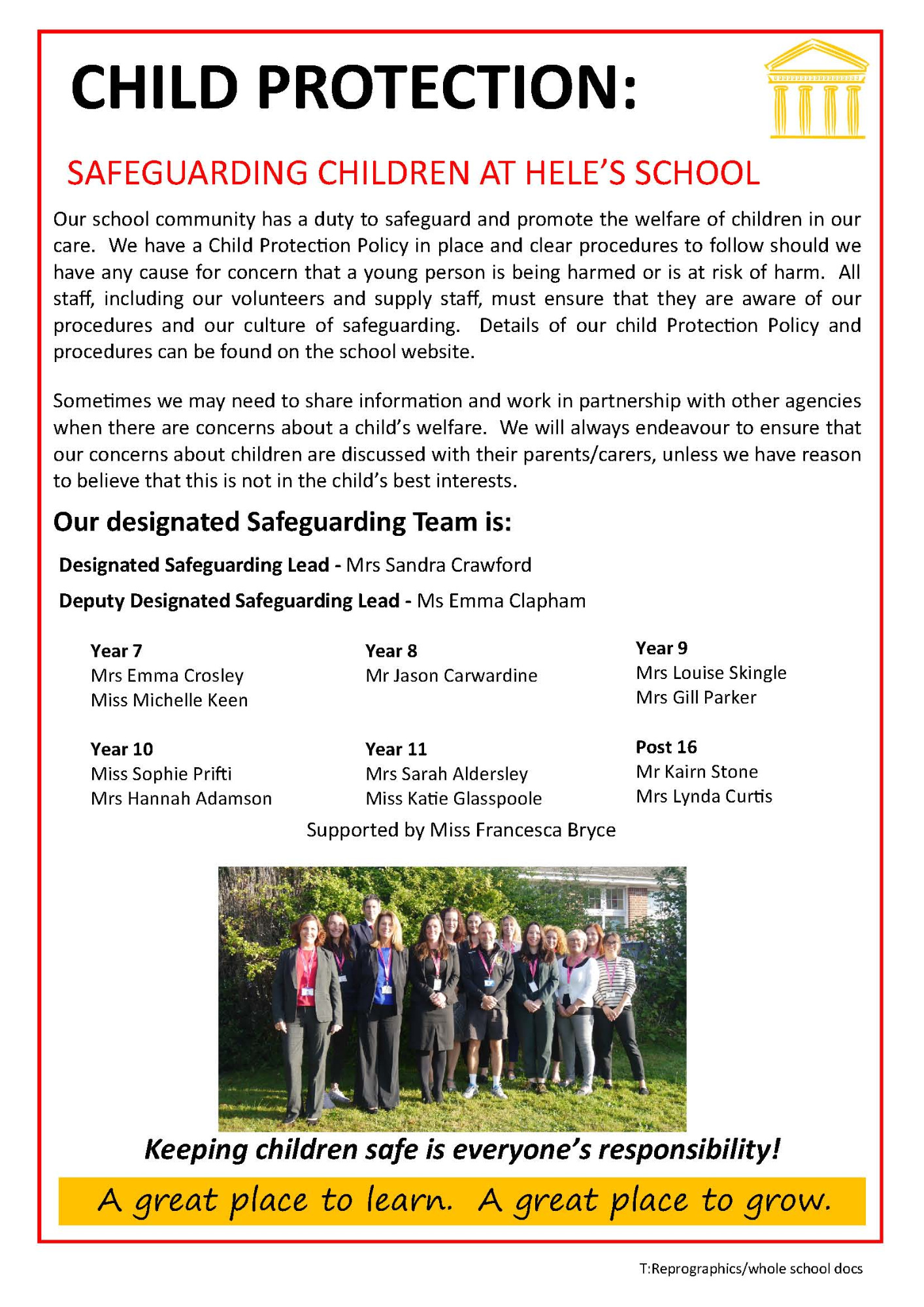 Contact:
crawfords@heles.plymouth.sch.uk
NEVER KEEP CONCERNS ABOUT CHILDREN'S SAFETY TO YOURSELF
Remember these three important messages:
All children have a right to be safe no matter what their circumstance

Keeping children safe is everyone's responsibility

We all need to listen to children even though we may not always be comfortable with what we hear
Please contact us within school hours if you have a concern. We cannot keep safeguarding concerns about children and young people confidential and may need to pass on information to Children's Social Care or the police to investigate further.
Useful contacts
Emergency services: 999
Plymouth Children's Social Care: 01752 308600 (Monday-Friday 9am — 5pm)
Plymouth Social Care (out of hours): 01752 346984
Our policies and procedures are consistent with South West Child Protection procedures (for further details please see here) and respond to the statutory guidance outlined in Keeping Children Safe in Education 2021.
Young Persons Guide to Keeping Children Safe
Working Together To Safeguard Children
Government guidance to support mental health and wellbeing
Looking After Yourself and Your Children
NSPCC Website — 0800 136633
---
Parental Conflict
For advice and information on coping with added family stress around the COVID-19 situation, please see https://www.relate.org.uk/relationship-help/covid-19-advice-and-information.
If you feel you are experiencing, or at risk of, Domestic Abuse please see www.nationaldahelpline.org.uk or www.womensaid.org.uk
Several associated policies are attached below.
**Please note, Child Protection and Safeguarding Policy (WeST) is for operational guidance from September 2021, to be ratified at the first governors' meeting of the year**