Six Weeks of Sport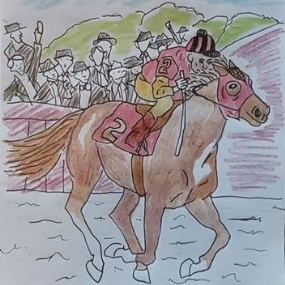 Six Weeks of Sport
Welcome, to the first edition of six weeks of sport where I, your reporter Josh Dyke, tell you all the important sports events that have happened over the last term.
The first of which is the Grand National: the biggest annual horse race where 40 horses run approximately 4 and a quarter miles in the hope of winning the massive prize pot of £561,300 (as of 2023) which this year went to Scottish jockey Derek Fox and horse Chorach Rambler in a last minute sprint. This is the second time Derek has won the Grand National, an amazing feat for someone so young - he is only 21 years old! This event also holds a lot of money through betting, something millions of people do, but you must be aware with these things, when you put money down, there is more chance of you losing it than winning it back.
Also recently was the women's Six Nations Rugby where, after not losing a single game, England came out on top 7 points clear of nearest rivals and with a staggering whole tournament score difference of +223 compared to the nearest competitors France with +135. This continues their dominance as they have won 19 of the 28 women's series.
In the recent Miami Grand Prix, Red Bull Racing took home 2nd and 1st with Max Verstappen soaring from 9th all the way to the top spot and Sergio Perez dropping down one to second. Although, many were wondering, where was Lewis Hamilton? Unfortunately, the British driver scraped together a 6th place finish after qualifying 13th. Martin Brundle, channel 4 F1 correspondent, pointed out: "It's not the best car he's ever driven, and it certainly isn't talking to him at the moment."
Finally, the big news. If you haven't heard us screaming it already, Plymouth Argyle, with the support of the green army, have been promoted to The Championship! After 13 years of battling it out in league 1, it's a grand break as we are promoted as champions! Bringing more money into the club, a great sign as it means we will be able to afford better and better players, making an even better game for us to watch. Although, you might have to save up a little more for that season ticket!