Flower Planting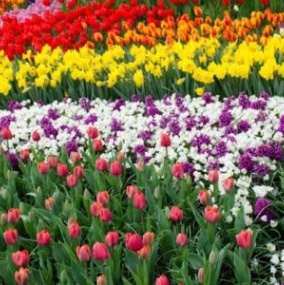 Flower Power 🌷🌼🐞
The best environmentally friendly summer flowers and plants
Now summer is coming up and flowers are being planted, you might be wondering which flowers are best for the heat and best for your garden. In this article, we discuss the best flowers are for your gardens, which flowers grow best in the heat and where to buy them.
The best for your garden
Choosing flowers may be hard, but here are some of the best flowers for your garden and why! To start off simple, and easily found, one of the best flowers that draws in bees is lavender. This beautiful plant is a natural source of pollen, which is critical for bees' survival. Three other good flowers are poppies, cornflowers and sedums (which is a succulent). These three flowers are also great pollinators, so they will draw in bees and insects into your garden! Bees especially love sedums, so I would recommend them if you would like to have your garden full of bees! If none of these flowers are an interest to you, and you are still unsure of what flowers to choose, the best ones to choose would be pollinators which are easy to find and beautiful.
The heat surviving plants
These plants cannot just be any plants, there are two specific types of plants that are the best in hot weather: succulents and alpines. These plants may seem confusing or hard to find, but they are quite easy to obtain. Succulents (which are plants that hold water due to the texture of their leaves) are quite common plants and can be found in most garden centres. Some examples of succulents are cacti (although these are indoor plants), aloe vera and jade plant. These types of plants are also great for beginners that are unsure of what plant to start off with since these plants do not need to be watered very often. Alpines, which are plants that can grow well in heat, are also more common and easily obtainable in garden centres as well. Some examples of alpine plants are creeping thyme, the Pasque flower and the storkbill. Most alpine plants are compact plants that usually produce small jewel like flowers in vibrant colours. Alpines are also great for beginner gardeners and are easy to grow, if you use a sharply draining compost and you do not overwater them. So, if you want some plants that bloom and grow well during the heat, I recommend these two types of plants (succulents and alpines)!
The best places to buy
Now, it's no good knowing what flowers to buy but not knowing where to get them. Garden centres are always the best places to buy flowers because you can choose the best out of a bunch as well as seeing the height and proportions of the plant. Garden centres can be found everywhere, so there is no need to travel far. There are some nearby garden centres in Plymouth that give you a wide variety of flowers and fair prices for them: Otter Garden Centre, Plants Galore, and Saltash Garden Centre.
These are all the tips to keep your garden bright and alive during the summer as well as the best plants for your garden, so you can keep it happy and full of life.