Editor's letter Fourth edition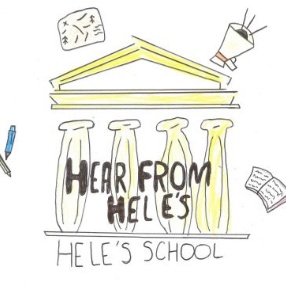 Bring on the Summer!
Dear readers,
Welcome to the fourth edition of Hear From Heles! This is also the last edition of the school year.
I don't know about you, but for me this year has gone by so fast. It only feels like yesterday that I was wearing my new tie for the first time and now my team and I are in year 9!
As quick as it was, this year has been brilliant! Like you, I have made memories and friends that will be with me for life. I have laughed, cried, thrived and fallen. It is a good job summer is here, we are all exhausted!
Coming up in this edition:
Another dose of sporting news from Josh Dyke as he informs us on all the wins and losses that makes sports so exciting.
I will show you the life of Lady Jane Grey and how her story helps us understand how our voices are to be cherished.
Emma Bagshaw is part of our summery line up with a guide to Mothecombe beach, a beautiful part of the Devon coastline that isn't too far away.
As some of us will be going abroad this summer, Isla Hockley is here to save the day. When it comes to foreign currency, Isla has a full guide which will help you to plan your trip stress- free.
I hope everyone has the best summer ever, and I will see you all in September!
Enjoy,
Alice Shelley
Editor in Chief of Hear From Heles.