Year 11 Mock Interview Event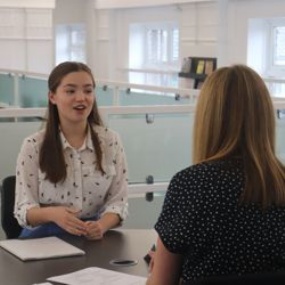 Year 11s shine at Mock Interview event
14th & 15th November saw one of the most important events in the Careers calendar at Hele's School, the annual Year 11 Mock Interview event. With support from 22 Interviewers from local Employers, Training Providers and Recruitment Experts, over 200 students received a formal interview, during which students were assessed on their interview technique and the quality of their CV. The Careers Library at the school was transformed into a waiting area, with the Library set out as the interview space. As the students arrived, it was clear to see how seriously they had taken the event; all smartly dressed, many understandably nervous, they practised handshakes and read over their carefully prepared CVs.
"This event takes a huge amount of planning and organisation, as we want to give our students an authentic experience. Students began writing their CVs whilst in Year 10 and then updated them when they began Year 11 in September, after they had completed their work experience in July. We do this, so the students can learn how important it is to keep their CV updated and to really expand on all the skills they learned during work experience. As much as possible, we try to match students to an Interviewer from the employment sector they are considering. Having interactions with employers is vital for students to be able to make informed choices about their future study pathways or careers. We have excellent links with local businesses, training providers and universities and this enables us to provide an excellent careers programme here at Hele's." said Mrs Yeomans, Careers Support Manager.
Every student received a detailed feedback sheet from their Interviewer which they can refer to when they are experiencing interviews over the coming months, as they make decisions about their future study, or apply for Apprenticeships or College courses. The students also all completed an evaluation of the event, the results of which show how much they all valued the experience.