Hele's School selected by National Theatre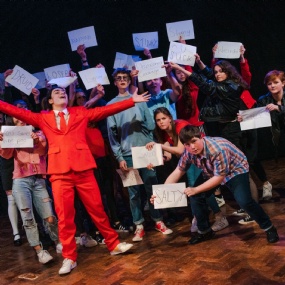 Each year, the National Theatre commissions ten new plays for young people to perform, bringing together some of the UK's most exciting writers with the theatre-makers of tomorrow.
Since the start of November 2020, Hele's students have been working exceptionally hard on a play text called 'Find a Partner', written by Miriam Battye. The play centres around the expectations of relationships as well as the ideas around conforming to social norms.
Our Drama students got the chance to perform the playas part of the National Theatre's Digital Festival recently – and what a performance it was, sparking a rise to a new level! We are absolutely delighted to be able to announce that Hele's School has been selected as one of just 10 companies from the 300 youth companies across the UK comprising approximately 6000 young people to work alongside the National Theatre and a professional film crew to capture our finalised product. The film, along with a documentary, will be released in September and we cannot wait to share it!
Sam Jones, Head of Creative and Performing Arts, has declared, 'This is a career highlight for myself and a life long experience for the young people involved!'
Congratulations to all the students and staff involved in the production on this wonderful achievement – we are so proud of Team Hele's! Bravo!