Curriculum
Curriculum Statement
Students at Hele's School enjoy a curriculum which is firmly rooted in our belief that students need knowledge to be successful and need qualifications to progress into the world of work. Alongside qualifications, we recognise that skills such as communication, leadership and teamwork are essential, and our curriculum offers many opportunities for students in these areas. Principles of cognition and memory for learning are embedded into our curriculum, as are structures to support cooperative learning; this is a key development in our strategy to ensure that students are partners in learning.

We are committed to the development of the whole child and pay high regard to the social and emotional aspects of learning; we want all young people to feel safe, to feel valued, to have confidence and pride in their abilities. Our curriculum enables every individual to shine and contribute positively to our school and the community.

We celebrate success, aspiration, challenge and inclusion, and are passionate and relentless in our drive for excellence, thus ensuring that all learners are supported into meaningful adult lives.
Curriculum Description
The Hele's curriculum is organised around 50 1-hour lessons per fortnight, the timetable being delivered as Week A and Week B. Below is an overview of subjects and their allocation as offered at each Key Stage:
Key Stage
Age
Subject (hours per fortnight)
3
Years 7-8
English (7), Maths (7), Science (6), MFL (5), Geography (3), History (3), RS (2), Art (2), Computing (2), Drama (2), Music (2), PD (2), PE (4), Technology (3)
4
Years 9-11

Core Curriculum: English Lang & Lit (8), Maths (8), Combined Science (10), Philosophy & Ethics (2), PE (2)

4 Option subjects (5 hours each) to include MFL/History or Geography

5
Years 12-13

A range of AS/A Level/BTEC courses (9) alongside GCSE English/Maths if required (6)

Wide range of vocational BTEC/City and Guilds courses with off-site providers alongside GCSE English/Maths if required to suit individual needs
Note: From September 2017 Key Stage 3 runs for students in Years 7-8, and Key Stage 4 runs throughout Years 9-11. We believe this gives students access to a more challenging and engaging curriculum through increased opportunities to master their chosen subjects and achieve even greater success at GCSE level.
Key Stage 3
­­Science topics to be studied in years 7 and 8
The topics will be studied on a carousel basis with common content, 'how Science works' skills, literacy, numeracy and investigative and practical opportunities offered within each topic.
­­­­­­
Year 7
| | | |
| --- | --- | --- |
| Biology | Chemistry | Physics |
| Cells | Mixtures and separation | Electricity |
| Reproduction | Atoms, elements and compounds | Energy |
| Ecosystems | Acids and alkalis | Forces |
Year 8
| | | |
| --- | --- | --- |
| Biology | Chemistry | Physics |
| Breathing and respiration | Combustion | Light and sound |
| Plants and photosynthesis | Metals and their ions | Fluids |
| Inheritance and selection | | Gravity and space |
Key Stage 4

Students in Year 9 start on a 3-year KS4 and make 3 choices from an extensive range of subjects on offer. We are committed to providing a strong academic core for all of our young people and 85% of our students currently study their core language to GCSE level. We have maintained our curriculum integrity by staying loyal to GCSEs, although we will look to offer BTECs and vCerts for a minority of youngsters or for particular courses where this is more appropriate.
Science topics to be studied in years 9, 10 and 11
Year 9
Biology

Chemistry

Physics

Terms 1, 2 and 3

B1 – cell structure and support

C1 – atomic structure

P2 – energy transfer by heating

B2 – cell division

C2 – periodic table

P3 – energy resources

B8 – photosynthesis

C7 – energy changes

P6 – molecules and matter

Terms 4, 5 and 6

B3 – Organisation and the digestive system

C3 – Structure and bonding

P1 – Conservation and dissipation of energy

B4 – organising animals and plants

C4 – chemical calculations

P7 – Radioactivity

B7 – non-communicable diseases

-

-
Year 10
Biology

Chemistry

Physics

Term 1

B5 – Communicable diseases

C5 –Chemical changes

P4 – Electric circuits

Term 2

B9 – Respiration

B6 – Preventing and treating disease

C8 – Rates and Equilibrium

P8 – Forces in balance

Term 3

B12 – Reproduction

C6 – Electrolysis

P5 – Electricity in the home

Term 4

B10 – The human nervous system

C9 – Crude oil and fuels

P9 – Motion

Term 5

B11 – Hormonal control in humans and plants

C10 – Chemical analysis

P10 – Force and motion

Term 6

B13 – Variation and evolution

Revision for mock

Revision for mock
Year 11
Biology

Chemistry

Physics

Term 1

B15 – Adaptions, interdependence and competition

B16 – Organising an ecosystem

C11 – The Earth's atmosphere

P11 – Wave properties

Term 2

B14 – Genetics and evolution

C12 – The Earth's resources

P12 – Electromagnetic waves

Term 3

B17 – Biodiversity and ecosystems

-

P13 – Electromagnetism

Term 4

Past exam papers, diagnostic interventions
KS4 Curriculum Booklet Sep 2019
Post 16

Qualifications
Exam board: OCR A H156 (AS) H556 (A2)
End of Year 13 – A Level (two year course only)
Entry Requirements
A minimum of 5 passes at grade 5 or grade C (including English and Maths). A minimum of 2 grade 6's in Science is required.
Skills Required
This A Level requires students who have a real passion for Science and a desire to learn more about how Physics plays a part in many aspects of our everyday lives. An attention to detail when carrying out practical work and the ability to discuss, analyse, draw conclusions and evaluate is essential if progress is to be made.
Students will need to have the discipline to devote themselves to the necessary independent study work in order to reinforce ideas and gain new knowledge. An interest in current Physics developments and the discoveries that continue to be made will allow the student to gain a better understanding of the role that Physics plays in the modern world.
Course Outline
We have chosen to follow the OCR A-Level Physics A course. The course places knowledge and understanding firmly in the context of problem solving of real applications of physics and technology. In addition to terminal examinations students will carry out a practical endorsement for Physics.
Student Testimony
"Physics at A Level can be rather challenging at times, but equally as rewarding. The course allows many fundamental principles to be investigated both theoretically and practically, as well as establishing the link between these ideas and real world applications. Our class had the opportunity to visit CERN in Geneva, which was one of the most valuable, unforgettable experiences of my life so far."
Career Paths & Degree Courses
As well as learning about how the universe works, you'll get a broad training in skills that all employers value – an ability to grasp concepts quickly, a determination to find coherent answers, not to mention problem-solving, analytical, mathematical and IT skills. If you choose to continue your Physics studies there are a wide range of Physics and engineering degrees that you have access to. Equally, you could look to take up an Advanced Apprenticeship in industry, e.g. aerospace, nuclear power generation or electrical power distribution. Even if you don't end up working in a physics-related industry, these skills are still highly regarded. Studying Physics is a good way of keeping your options open and earning a good salary.
Content is in six modules:
Module 1 – Development of practical skills in Physics
Module 2 – Foundations in Physics
Module 3 – Forces and motion
Module 4 – Electrons, waves and photons
Module 5 – Newtonian world and astrophysics
Module 6 – Particles and medical physics
Assessment overview
Year 12

Year 13

Paper 1 – Breadth in Physics

1½ hour written examination

50% of AS

Paper 1 – Modelling Physics

2 hour 15 minute written examination

37% of A level

Paper 2 – Depth in Physics

1½ hour written examination

50% of AS

Paper 2 - Exploring Physics

2 hour 15 minute written examination

37% of A level

Paper 3 - Unified Physics

1½ hour written examination

26% of A level
Extended Curriculum

There is a broad range of extra-curricular activities offered to youngsters of all ages, abilities and aptitudes. Many of these are subject-specific (e.g. PE clubs; Animal Club; Street Dance, etc.) although there are also cross-curricular and leadership programmes to engage learners on a more spiritual or social level (e.g. Christianity Club; Mindfulness; Duke of Edinburgh; CCF; Sports Leaders; Language Leaders; Literacy Leaders, etc.)
Our annual 'Aspiration Week' is an action-packed enrichment week for Years 7-9, whilst Year 10 and Year 12 are on work experience. During this week, the normal school timetable is suspended & replaced by an extensive menu of activities to suit all interests, giving all young people the chance to try new things or improve their skills & knowledge in hobbies or interests outside school, & to work with other young people across the age range. There are opportunities for residential experiences, sports, outdoor & adventure activities, creative and arts-based activities, science, technology and nature experiences , and of course this gives opportunities to improve or to try new hobbies and interests.
Work Experience remains an integral part of our curriculum guarantee to young people, despite the withdrawal of the statutory entitlement to Work Experience at KS4. All Year 10 learners have an opportunity to undertake a week of Work Experience with local employers during Aspiration Week. Post-16 students are actively encouraged and supported to undertake Work Experience throughout this week also. Those Year 10s not engaging in Work Experience follow an in-house programme around 'Preparation for Working Life' instead. Delivered in partnership with Training Providers, local Employers & Colleges, this programme has its emphasis on employability skills, CEIAG & First Aid
Curriculum Pathways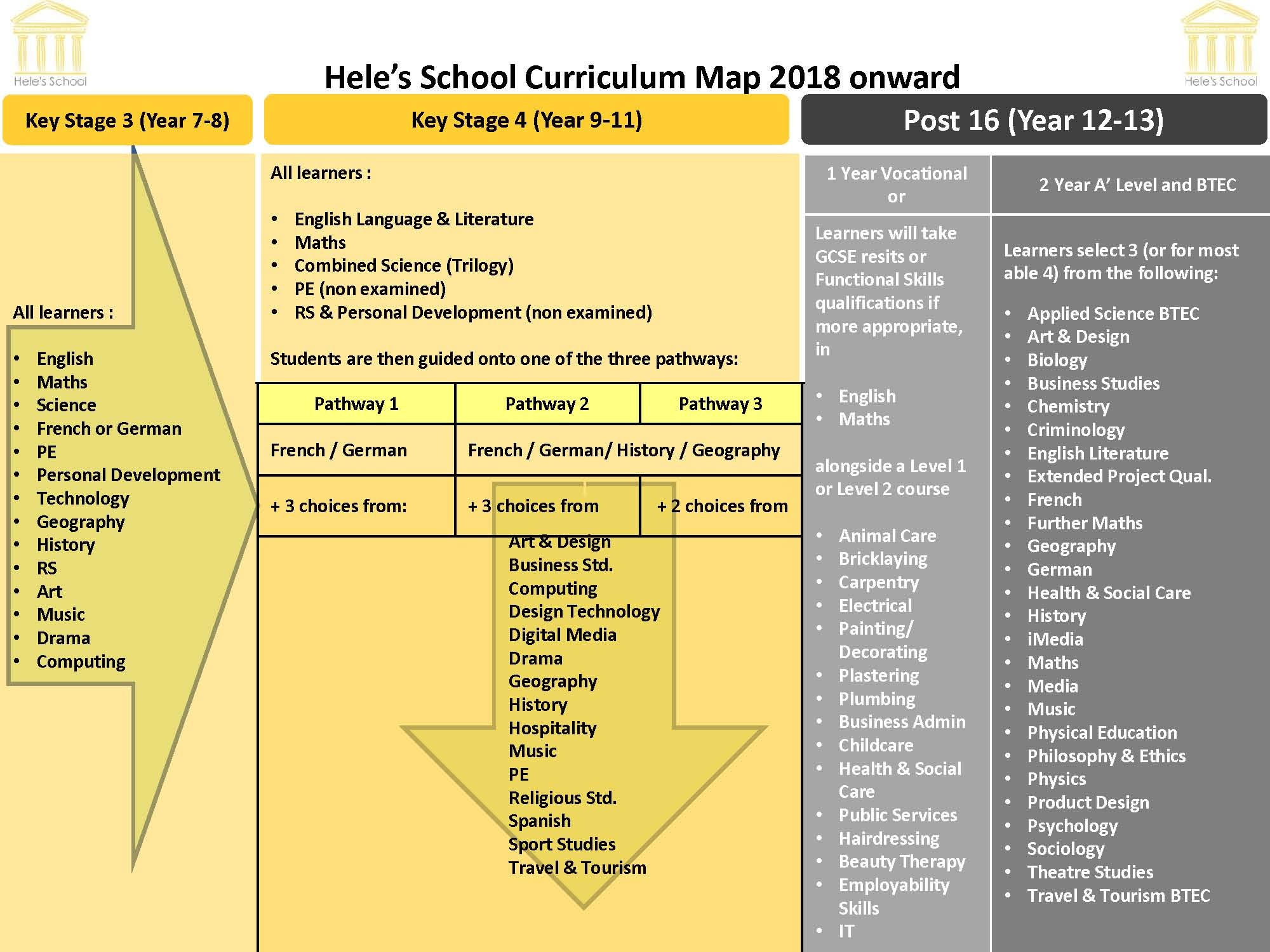 Home Learning

Homework Schedule
We have reviewed our arrangements for homework this year and have tried to simplify our schedule. Students should be receiving the following amount of homework over a two week period.
Students should log homework in their planner and staff will also log on the ClassCharts.
At KS4 all examined subjects to set a weekly homework of up to one hour.
Maths, Science, English, MFL
1 homework of 30—40 mins per week (Y7) rising to up to an hour in Y9.
All other subjects (excluding PE)
1 homework of 30—40 mins per fortnight (Y7) rising to up to an hour in Y9.