Curriculum
Curriculum Statement
Students at Hele's School enjoy a curriculum which is firmly rooted in our belief that students need knowledge to be successful and need qualifications to progress into the world of work. Alongside qualifications, we recognise that skills such as communication, leadership and teamwork are essential, and our curriculum offers many opportunities for students in these areas. Principles of cognition and memory for learning are embedded into our curriculum, as are structures to support cooperative learning; this is a key development in our strategy to ensure that students are partners in learning.

We are committed to the development of the whole child and pay high regard to the social and emotional aspects of learning; we want all young people to feel safe, to feel valued, to have confidence and pride in their abilities. Our curriculum enables every individual to shine and contribute positively to our school and the community.

We celebrate success, aspiration, challenge and inclusion, and are passionate and relentless in our drive for excellence, thus ensuring that all learners are supported into meaningful adult lives.
Curriculum Description
The Hele's curriculum is organised around 50 1-hour lessons per fortnight, the timetable being delivered as Week A and Week B. Below is an overview of subjects and their allocation as offered at each Key Stage:
Key Stage
Age
Subject (hours per fortnight)
3
Years 7-8
English (7), Maths (7), Science (6), MFL (5), Geography (3), History (3), RS (2), Art (2), Computing (2), Drama (2), Music (2), PD (2), PE (4), Technology (3)
4
Years 9-11

Core Curriculum: English Lang & Lit (8), Maths (8), Combined Science (10), Philosophy & Ethics (2), PE (2)

4 Option subjects (5 hours each) to include MFL/History or Geography

5
Years 12-13

A range of AS/A Level/BTEC courses (9) alongside GCSE English/Maths if required (6)

Wide range of vocational BTEC/City and Guilds courses with off-site providers alongside GCSE English/Maths if required to suit individual needs
Note: From September 2017 Key Stage 3 runs for students in Years 7-8, and Key Stage 4 runs throughout Years 9-11. We believe this gives students access to a more challenging and engaging curriculum through increased opportunities to master their chosen subjects and achieve even greater success at GCSE level.
Key Stage 3
Students largely follow a 2-year KS3, making their choices for KS4 mid-way through Year 8. KS3 is designed to introduce students to academic study, but not to GCSE courses. The curriculum is broad and balanced, with coverage of a range of practical courses as well as exposure to the arts through curriculum time.
Mixed Ability/ Setting?
We are committed to achieving a balance between setting by ability and mixed ability delivery so as to ensure students have a well-rounded experience yet are challenged and supported in equal measure.
In Year 7 each tutor group is a mixed ability group. Science, Personal Development, Music, Art, Drama and Computing are taught in these groups in Year 7, whilst Maths set their classes from the very start of Term 1. English, Humanities and MFL classes are grouped by the English department. Setting decisions are informed by using Teacher Assessments from primary colleagues and then reviewed later in the term using KS2 SATs results and internal assessment data. Opportunities for class changes occur throughout the year and are informed by internal assessment data and discussions between Heads of Departments, students and parents as appropriate.
Students are taught in single-sex groups in PE; in technology, groups need to be much smaller than a tutor group (no more than 22 students in a technology group) to safeguard youngsters in practical delivery.
We offer French or German as a first foreign language to Year 7, known as the 'core language'. This is decided upon entry; 4 tutor groups take French and 3 take German. A minority of students are disapplied from MFL in Year 7 and instead follow the Read, Write, Inc course to develop literacy.
The model is followed through into Year 8 with one change; science classes are set by ability.
Key Stage 4

Students in Year 9 start on a 3-year KS4 and make 3 choices from an extensive range of subjects on offer. We are committed to providing a strong academic core for all of our young people and 85% of our students currently study their core language to GCSE level. We have maintained our curriculum integrity by staying loyal to GCSEs, although we will look to offer BTECs and vCerts for a minority of youngsters or for particular courses where this is more appropriate.
All students in Years 9-11 study English (English Language and English Literature), maths, science (trilogy), active leisure (non-examined PE, with an emphasis on healthy lifestyles), religious studies, plus 70% of the cohort study French or German GCSE. Those students who do not study MFL opt for either History or Geography, or are guided to take key skills sessions which include study skills, a 1:1 mentoring programme and where appropriate, a relevant qualification. Students also receive enhanced CIAG and vocational tasters to prepare them for Post-16 progression. Students on this pathway are still able to access 3 full GCSE option subjects, ensuring that they have a blended learning experience of vocational and academic opportunities more than ever before.
A programme of citizenship, personal wellbeing, British values, health education (including drugs, sex and sexual health), economic wellbeing and careers is delivered through targeted 20 minute slots during morning tutor periods, supplemented by cross-curricular delivery and occasional collapsed days.
KS4 students follow 3 GCSE courses from the following list:
Art; Business Studies; Computing; Design and Technology; Drama; Geography; Health and Social Care; History; Hospitality; ICT; Music; Physical Education; Spanish, Sport, Travel & Tourism.
In addition to this offer, able linguists may opt to follow a GCSE Latin in twilight time.
KS4 Curriculum Booklet Sep 2019
Post 16

We welcome the majority of our Year 11 learners on into our Post-16, and attract many applications from students across the city at this stage in their education. We offer distinct pathways for Post-16 learners, ensuring we are inclusive and can cater for the needs of individuals.
Pathway A: AS & A level courses
A wide range of courses are available in the new, purpose-built Post-16 Centre. AS (1 year course) & A Levels (2 year course) receive 9 hours of direct tuition from a subject specialist per fortnight and 1 hour a fortnight of timetabled independent study which is to support wider reading and research around the subject by the students. The A Level subjects are divided into 5 teaching blocks and students may only choose one subject from each block. Students are encouraged to make 3 choices for their Post-16 programme. Some will be guided towards either Self Supported Study (a curriculum catch-up time with remote supervision and mentoring by the Pastoral Support Manager), or to the Extended Project at Level 3, our own in-house Employability Award or work experience. The most able youngsters will be able to make 4 A Level choices, and/or the Extended Project at Level 3 to further extend learning if appropriate.
A number of subjects are also provided on a consortium level, with a minority of students travelling to another school in the Plym Consortium to access a course. This collaboration not only provides consortium solutions to resolve potential timetable clashes for young people but it also allows sharing of staff/resources/expertise to maximise efficiency, as well as the prospect of offering a broader range of courses and opportunities to Plym learners with appropriate, localised progression pathways.
All students follow a programme of personal development activities. There is a mentoring programme for students to consider higher education and employment. The Employability Award is used as a framework to capture, track and accredit broader learning and experience. Community development, personal development and voluntary work form important strands of this in-house award, and show a commitment to the holistic development of the learner.
We can offer packages such as the BTEC Level 2 in Sport and Leadership through Discovery College, or a mixture of courses such as BTEC in Applied Science alongside 2 A Levels. For students who have not achieved a grade 4 in English or Maths at GCSE, this will form part of their Study Programme and may reduce the number of courses they select at Level 2.
Pathway B: Level 1 & 2 vocational courses
A one-year vocational study programme is offered through a variety of local off-site training providers as a stepping stone on to employment and apprenticeships. This is an individually negotiated programme giving students the opportunity to acquire nationally recognised vocational qualifications alongside work experience in an extensive range of areas, widening their employment and further education choices. Many of these students access provision at Hele's to continue working towards GCSE English and Maths, and their timetable is shaped to suit their individual requirements. Students are encouraged and supported to gain work experience for one day a week. Some students return for a second year working at Level 2.
Extended Curriculum

There is a broad range of extra-curricular activities offered to youngsters of all ages, abilities and aptitudes. Many of these are subject-specific (e.g. PE clubs; Animal Club; Street Dance, etc.) although there are also cross-curricular and leadership programmes to engage learners on a more spiritual or social level (e.g. Christianity Club; Mindfulness; Duke of Edinburgh; CCF; Sports Leaders; Language Leaders; Literacy Leaders, etc.)
Our annual 'Aspiration Week' is an action-packed enrichment week for Years 7-9, whilst Year 10 and Year 12 are on work experience. During this week, the normal school timetable is suspended & replaced by an extensive menu of activities to suit all interests, giving all young people the chance to try new things or improve their skills & knowledge in hobbies or interests outside school, & to work with other young people across the age range. There are opportunities for residential experiences, sports, outdoor & adventure activities, creative and arts-based activities, science, technology and nature experiences , and of course this gives opportunities to improve or to try new hobbies and interests.
Work Experience remains an integral part of our curriculum guarantee to young people, despite the withdrawal of the statutory entitlement to Work Experience at KS4. All Year 10 learners have an opportunity to undertake a week of Work Experience with local employers during Aspiration Week. Post-16 students are actively encouraged and supported to undertake Work Experience throughout this week also. Those Year 10s not engaging in Work Experience follow an in-house programme around 'Preparation for Working Life' instead. Delivered in partnership with Training Providers, local Employers & Colleges, this programme has its emphasis on employability skills, CEIAG & First Aid
Curriculum Pathways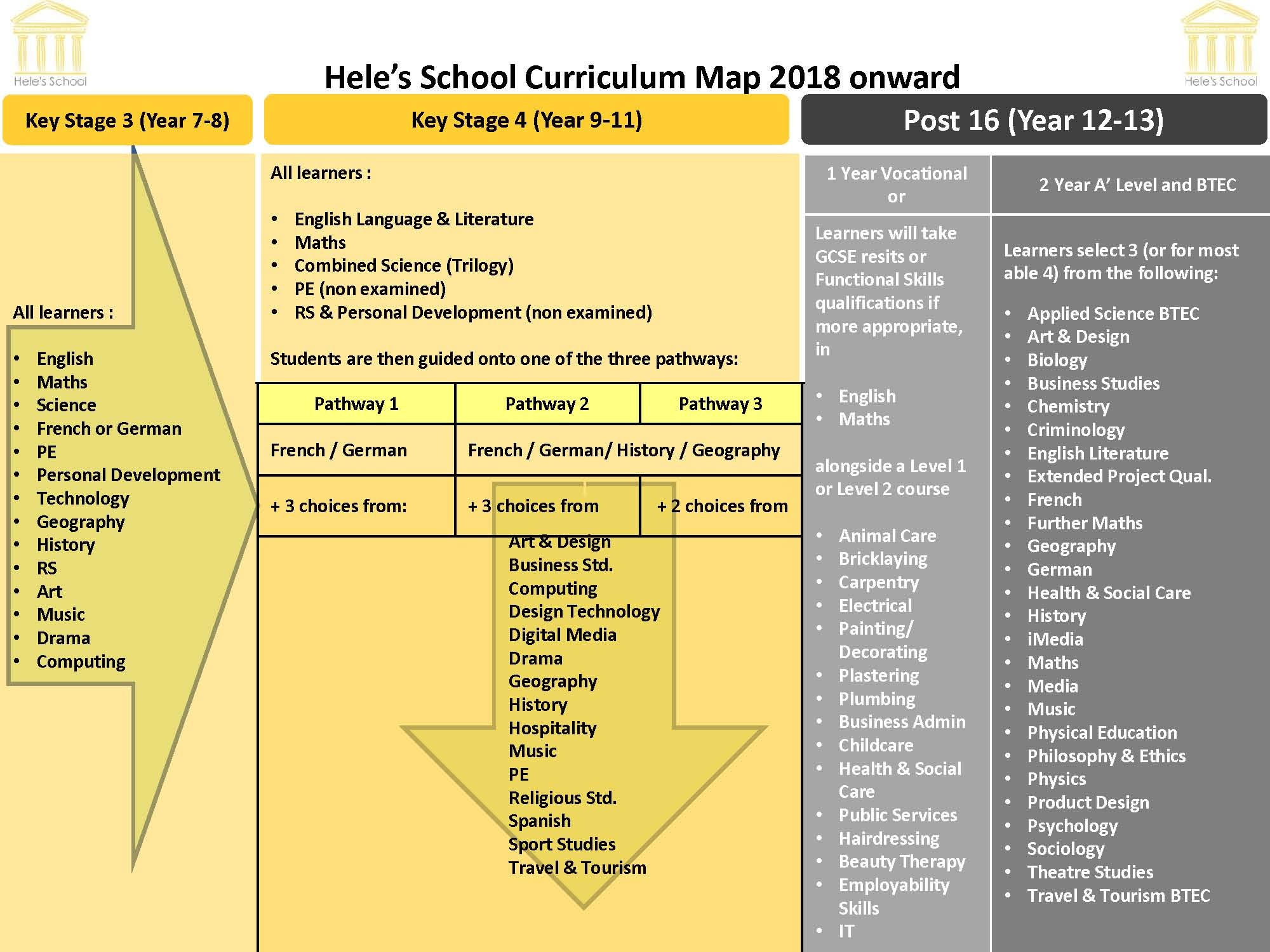 Home Learning

Homework Schedule
We have reviewed our arrangements for homework this year and have tried to simplify our schedule. Students should be receiving the following amount of homework over a two week period.
Students should log homework in their planner and staff will also log on the ClassCharts.
At KS4 all examined subjects to set a weekly homework of up to one hour.
Maths, Science, English, MFL
1 homework of 30—40 mins per week (Y7) rising to up to an hour in Y9.
All other subjects (excluding PE)
1 homework of 30—40 mins per fortnight (Y7) rising to up to an hour in Y9.