Remote Learning
DfE guidance
The DfE guidance states that schools must plan for a number of eventualities and publish this by Wednesday 30th September.
In their planning schools need to ensure that whatever scenario presents itself, we are able to provide:
a continuity of education
a high-quality and safe provision that aligns as closely as possible with in-school provision
remote learning that is integrated into school curriculum planning
We have been asked by the government to plan for the possibility of local restrictions and how we will ensure continuity of education in exceptional circumstances where there is some level of restriction applied to education or childcare in a local area.  The Department of Health and Social Care (DHSC) has recently issued an overview of the tiers of intervention for educational settings when managing local outbreaks and implementing restrictions:
Tier 1: All pupils attend full time
Tier 2: Part time rota system in place
Tier 3: Most secondary school students studying from home
Tier 4: All schools back to full lockdown
We have adopted this advice and developed a comprehensive strategy to our approach to Remote Learning across a range of scenarios.  This includes the support of individual and small groups of students who may be self-isolating/shielding to ensure they can access high quality resources during their period of absence. 
Overview of Provision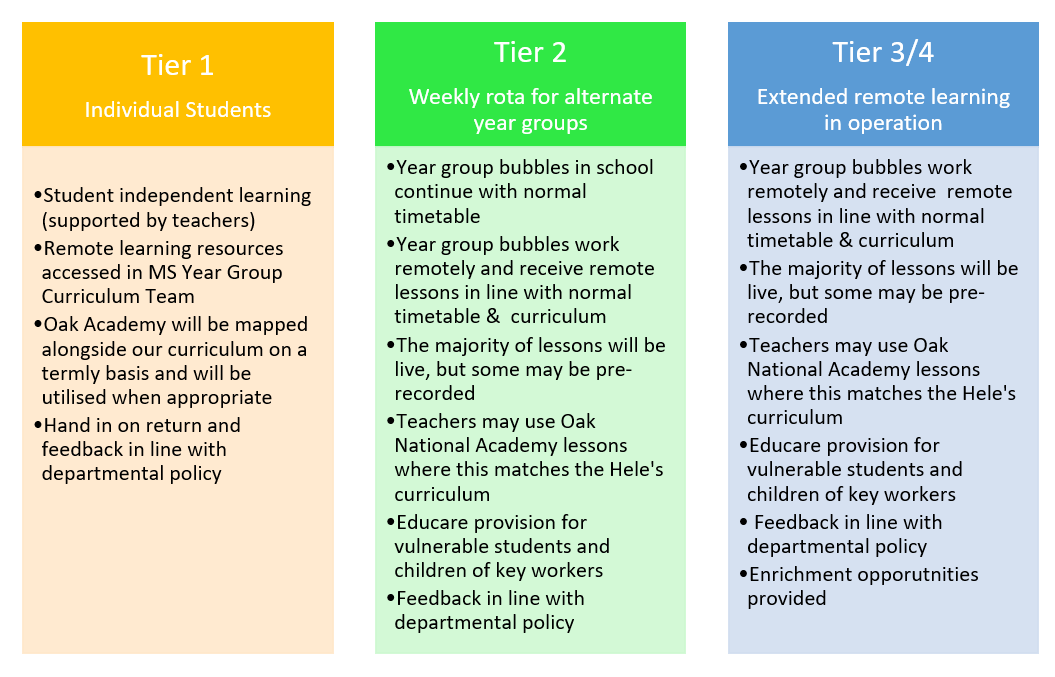 Detailed advice and guidance can be found in the relevant Student Life or Parent sections of the website.