Teaching & Learning
At Hele's School we work tirelessly to achieving a culture of excellence and ensure it really is "a great place to learn, a great place to grow".
Our curriculum planning and individual lessons are underpinned by our model of learning. We have based this on the best educational practice identified by international research.
The Hele's Model of Learning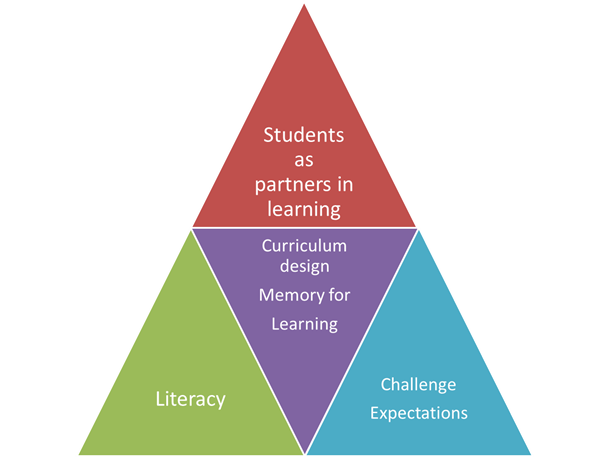 High expectations
We have high expectations because academic research finds that high expectations are the most reliable driver of high student achievement. Much of this research has been centred around the 'Pygmalion Effect", in which teachers are told that randomly selected groups of students have very high-test scores and have the potential for high academic gains. Rosenthal and Jacobson have noted, "when teachers expected that certain children would show greater intellectual development, those children did show greater intellectual development". The Pygmalion Effect has found to be most pronounced where teachers start the school year with high expectations and build them in from the start. No one rises to low expectations. Having high expectations of each and every student and then providing the necessary support needed to achieve that level is key to all students achieving to their best ability. We believe that excellence is possible from everyone.
Challenge
We establish a high level of challenge because the Concept of Desirable Difficulties (Robert Bjork) suggests that introducing certain difficulties into the learning process can greatly improve long-term retention of the learned material. So, if we get the learning right, memory, retention, and performance is improved. But learning is not easy, and students, parents and teachers must resist wishing for that simpler task, which requires minimal effort of brain power.
So how do we challenge our students?
We focus on developing our own subject (and pedagogical) knowledge
We consider common misconceptions in advance and overcome them with clarity
We issue learning checklists & knowledge organisers to help students see the big picture and self-regulate their own learning
We expose students to high-level material and deconstruct it
We plan challenging questions
We focus on depth not speed — details, accuracy, correct terminology, extended verbal answers, connecting the learning
We use models of excellence and also model the process to attain excellence — emphasise the importance of redrafting and DIRT
By setting the challenge high, we also need to focus on scaffolding the learning so that all students can access it and move towards independence. We do this by:
Breaking the task and material into manageable, sequential chunks
Teacher demonstration, collaborative/ guided practice and then independent practice
Keep it simple and provide tools or a method to help with each step
Modelling the thinking, processes and outcomes
Providing opportunities for structured talk so that students can articulate their learning before committing to paper
Literacy
We ensure students can read, write, speak and listen well because good literacy enables us to communicate effectively, understand written information and make sense of the world. Lacking vital literacy skills holds a person back at every stage of their life: as a child they won't be able to succeed at school and as a young adult they will be locked out of the job market.
We teach students to read, talk and write like historians, scientists, philosophers and mathematicians! All subjects make sure that students are taught important subject-specific vocabulary (Tier 3 words) and commonly used academic vocabulary (Tier 2 words). We aim to inspire a love of reading that will stay with our students long beyond their time at Hele's School.
Memory for Learning
We prioritise memory for learning because neuroscience and cognitive psychology has taught us so much about the way we learn and remember. Memory and learning are so closely connected that it is easy to confuse them with each other. Learning can be defined as "the retention and transfer of knowledge and skills" whereas memory is the ability to remember past experiences. You learn a new language by studying it, but you then speak it by using your memory to retrieve the words that you have learned. Memory is essential to all learning because it lets you store and retrieve the information that you learn.
Thirty years ago, little was known about how memory works, but now we know a great deal. Psychologists and neurologists have divided memory into two broad categories: working memory and long-term memory. Long-term memory is often associated with arithmetic, such as recalling 5x7=35 or that the capital of France is Paris. Working memory is often thought of as a mental workspace that we can use to store important information on the course of our mental activities. However, whilst the capacity of our long-term memory is unlimited, our working memory can only process 3-5 pieces of information at a time.
Psychologists think about long-term memory as organised into schemas, or interconnected webs of concepts, facts, impressions and ideas. The most successful learning happens when students can piece the jigsaw together and see how their learning links together. Schemas ensure effortless access to basic facts and concepts that are repeated over and over in our subjects. Daniel Willingham says, "The more you know, the easier it will be for you to learn new things." This is the advantage that our students with good cultural/general knowledge have. We need to ensure we help build this for all.
Absence of a relevant schema means students have to use fewer process-intensive strategies and because they can't chunk the material effectively, their working memory can easily become overloaded. Remember, our working memory can only hold 3-5 pieces of information at any one time, so we need to help students develop schemas to avoid their working memory being overloaded. Research shows that when we transfer information from our working memory to our long-term memory, learning takes place.
How do we improve students' memory for learning?
All lessons start with a retrieval activity to review prior learning
We use regular low-stakes quizzing
Students are given knowledge organisers to accompany each topic. These help them understand the big picture, see how the topic fits together and build their schema
We build in regular opportunities for students to re-present and practice what they have learnt
We space practice and interleave topics and so that students regularly recall previously studied topics
We value structured talk so that students can articulate and process their learning
We encourage students to elaborate on what they have learnt and think deeply about it
If you are interested in learning more about this fascinating subject, we recommend the Learning Scientists website https://www.learningscientists.org/
Partners in learning
Developing students as partners in the learning process requires us to create a culture where opt-out is removed and students are trained to be self-regulated learners. They need to understand how they learn and confidently use strategies to plan, monitor and evaluate their work. Our most effective learners model these behaviours, but we need to model these explicitly for all students.
The EEF Teaching and Learning Toolkit highlights that self-regulation approaches have consistently high levels of impact, with students making an average of seven months' additional progress.
These strategies are usually more effective when taught in collaborative groups so that learners can support each other and make their thinking explicit through discussion.
The potential impact of these approaches is high, but can be difficult to achieve in practice as they require pupils to take greater responsibility for their learning and develop their understanding of what is required to succeed.
Co-operative Learning
Cooperative learning is a structured approach to learning that is designed to actively engage every student and provide them with opportunities to talk about their learning. All students benefit from the coaching, encouragement and feedback that cooperative learning provides. It also enhances memory for learning because students have to think, articulate and re-present their learning.
The Education Endowment Foundation have found significant benefits and positive impact of cooperative learning.
What does it look like?
Cooperative learning structures are based on the following principles (PIES):
• Positive interdependence — students need each other to complete the task, the success of one is linked to the success of the other.
• Individual accountability — each student is accountable for their own contribution, they cannot hide behind teammates.
• Equal participation — everyone must participate, there is no opt-out.
• Simultaneous interaction — many students are participating at once maximising positive outcomes in cooperative learning.
Framework of lessons
Our lessons, whether classroom-based or remote, use a simple, common framework. This helps provide routine for students, to reduce their cognitive load, but also ensures all the key ingredients are present.
This, again, is evidence-based and utilises the work of Rosenshine (Principles of Instruction) and research by the EEF on effective remote learning.
Phase of lesson

What we do…

Introduction

We have a clear entry routine to welcome the students to our classroom, connect with them and establish high expectations for the lesson.

Activate

Students immediately begin a "Get In Get On" (GIGO) retrieval task to recall previous learning.

Explain

This is the teacher instruction phase of the lesson where new material is presented using small steps. The teacher will also provide models and scaffold difficult tasks.

The teacher will cold call and ask questions to check for student understanding.

Practice

During this phase of the lesson the teacher will guide student practice. This might include written work or collaborative learning structured talk. The aim is to obtain high success rate and increase confidence before students practise independently.

Reflect

At the end of the lesson the teacher will review the learning and oversee a calm exit routine.
---
Feedback
At Hele's School, we recognise the importance of feedback as a vital part of responsive teaching and learning; we aim to maximise its impact in practice. We are mindful of the research surrounding effective feedback, and also the workload implications of written feedback.
Our policy is underpinned by the evidence of best practice from the Education Endowment Foundation (EEF) and other expert organisations. The EEF research shows that effective feedback should:
Redirect or refocus either the teacher's or the students' actions
Be specific, accurate and clear
Encourage and support further effort
Focus on key pieces to maximise impact
Purpose of feedback
To enable students to see how well they've done and make progress
To recognise and celebrate student effort/achievement
For students to understand where they are now, what needs improving and how to improve (next steps)
To engage in a learning focussed dialogue
To inform teacher planning (personalise, identify gaps in learning/misconceptions)
To reinforce high expectations of students
Expectations of learners
It is important that we refuse to accept anything less than a student's best efforts. If this happens, staff should take action and communicate concerns. The following expectations should be consistently reinforced:
You are expected to take pride in the condition and presentation of your work in all books and folders
No graffiti or scribbles will be allowed.
Each piece of work should have a date, a title and c/w (classwork) or h/w (homework)
Underline all headings using a pen/pencil and a ruler
Write in blue or black ink (unless corrections are being made, in which case green pen should be used)
Handwriting should be neat and legible
Draw all diagrams and graphs with a pencil
Errors should be crossed out with a single line
Always use a ruler and pencil for drawing straight lines
Use DIRT time well to make improvements to your work. Remember: it takes practice to achieve quality.
Informal Feedback
The ongoing dialogue with learners about their progress is critical. This will enable staff to plan and respond astutely to meet the needs of all learners. This is the most frequent form of feedback.
Objective led planning – share learning objectives to set levels of challenge
Plan for regular progress checks within the lesson
Opportunities for peer and self-assessment
Give immediate and frequent formative oral feedback
High-quality questioning

Written Feedback
Staff will adopt the following consistent practice:
WWW(what went well) — comments on progress in line with learning outcomes or a praise comment.
EBI (even better if) — comments on what to do to improve or achieve their next steps in learning. Students often find this useful when this is phrased as a question.
Green pen" marking and DIRT are expected to enable learners to improve their work, to apply the feedback in a new context or to improve substandard work.
The frequency of written feedback is determined by individual subjects and copies of each department's feedback policy can be found here.
Self and Peer Assessment
We recognise the value of learners assessing both themselves and their peers as part of the wider programme of assessment for learning:
Ensures student engagement in a learning dialogue
Forces students to proof-read their work before handing it in
If students have meaningful success criteria, it enables them to "think like an examiner", thereby better understanding what is required of them
Peer assessment can inspire learners to improve as they can see what the next step/grade looks like
Students can learn from marking others' work and add to their own
Practical strategies we can use to train students to improve the quality and impact of self and peer assessment:
Use of models and exemplars
Clear criteria in student speak shared with the class and fully explained
Break down the process into clear steps
Use the same format each time so they get used to the process
Train by modelling the process through good teacher feedback
Focus on literacy- checking subject specific vocabulary or ensuring the termly punctuation focus has been used accurately
Use regularly – practice makes perfect!
Literacy
All staff must actively promote literacy across the curriculum. To make this meaningful for staff and students, we require a common language.
Spelling should be marked selectively and the focus should be corrections of subject specific vocabulary and commonly used words. Staff should be aware of students who have specific learning difficulties surrounding spelling. Identified errors should be correct by the student and written out 5 times.
| | | | |
| --- | --- | --- | --- |
| s | spelling | g | grammar |
| h | homophone | // | paragraphing |
| p | punctuation | ? | Re-read – this section does not currently make sense |